About the guitar... by François Castet
"ma guitare et moi"
"mi guitarra y yo"
"my guitar and me"
"meine Gitarre und ich"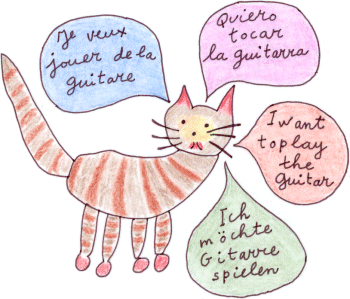 Amandine, age 10
No, I'm not writing a guitar method for little cats but a four langages method for very young children!
---
New and very interesting
at
Les Productions d'Oz
DZ 220
---
It was difficult to teach the guitar to very young children, and I experienced it like everybody else ! Today, this new method, very well adapted, is over, with a great amount of work and after testing it with some fifteen children from 5 to 8. It works quite well; it is nice, colourful, sparkled with pretty ideas, children's drawings and innovations.
With "my guitar and me", pupils and teachers will spend a year (or a little more) with a lovely book, without meeting any difficulty. The pupil learns a lot without suffering from his fingers nor his head ! The teacher is not anymore tearing his hair... It is written in four languages, but with a very "light" and easy text.
It is Les productions d'Oz who gave me so much satisfaction in wanting to have this book published. As always, enthusiasm is one of the great pleasures of life... I should think that you will share ours, when you'll have a look at it.
When you reached this pink page, you heard the last duet of the method...
---
Just below are a few pages:
---
Do you want to:
or:
---
You want to write to me:
e-mail :<fcastet@club-internet.fr>.